OUR BUILD PROCESS
Completely custom made for you
We start with a phone consultation, if you are located in Chicago, come join us in our state of the art 50,000 sq ft facility.  
Lets discuss what you are envisioning for your van build. Every single piece of material is hand installed, and custom built to align to your vision. 
Lets discuss what makes your dream build, and what you want in a conversion. 
Close Support
Our team will work with you to align your vision with real materials
3D Model
Get a close feel of what a completed build entails with a 3D sketchup of the finished product
Custom Materials
Not only is the layout fully customizable, but the materials and textures as well
Frequent Updates
As our team build your van out one piece at a time, we aim to keep close communication to update you on our progress
After discussing what makes your build tick, our team will break down the components and see how we can make it reality.
We want to set up an estimated time frame as well as pricing estimate for your conversion.
Once initial alignments are agreed on, a Pyon Vans design specialist will help co-create an initial floorplan with multiple layout that might fit your need.
Additional questions and design will be incorporated as we drill down on how you really envision using your van.
Our talented team of computer artists and cabinet makers will create a 3D mockup of your van. This allows you to see what the build will look like once complete. 
We can make tweaks, changes and all sort of edits with a digital representation of what your build will turn out to be. 
Color, materials and texture all give your van a unique look and feel. Due to our long history with architectural woodworking, we can incorporate thousands of different products into the build.
Allow our designer to get together a moodboard of your inspirations, and we can create a build that matches the vibe and aesthetics
Once the build style and layout is agreed on, it will enter our production line. Constant updates will be provided and we expect typical production to take anywhere from 3-6 months.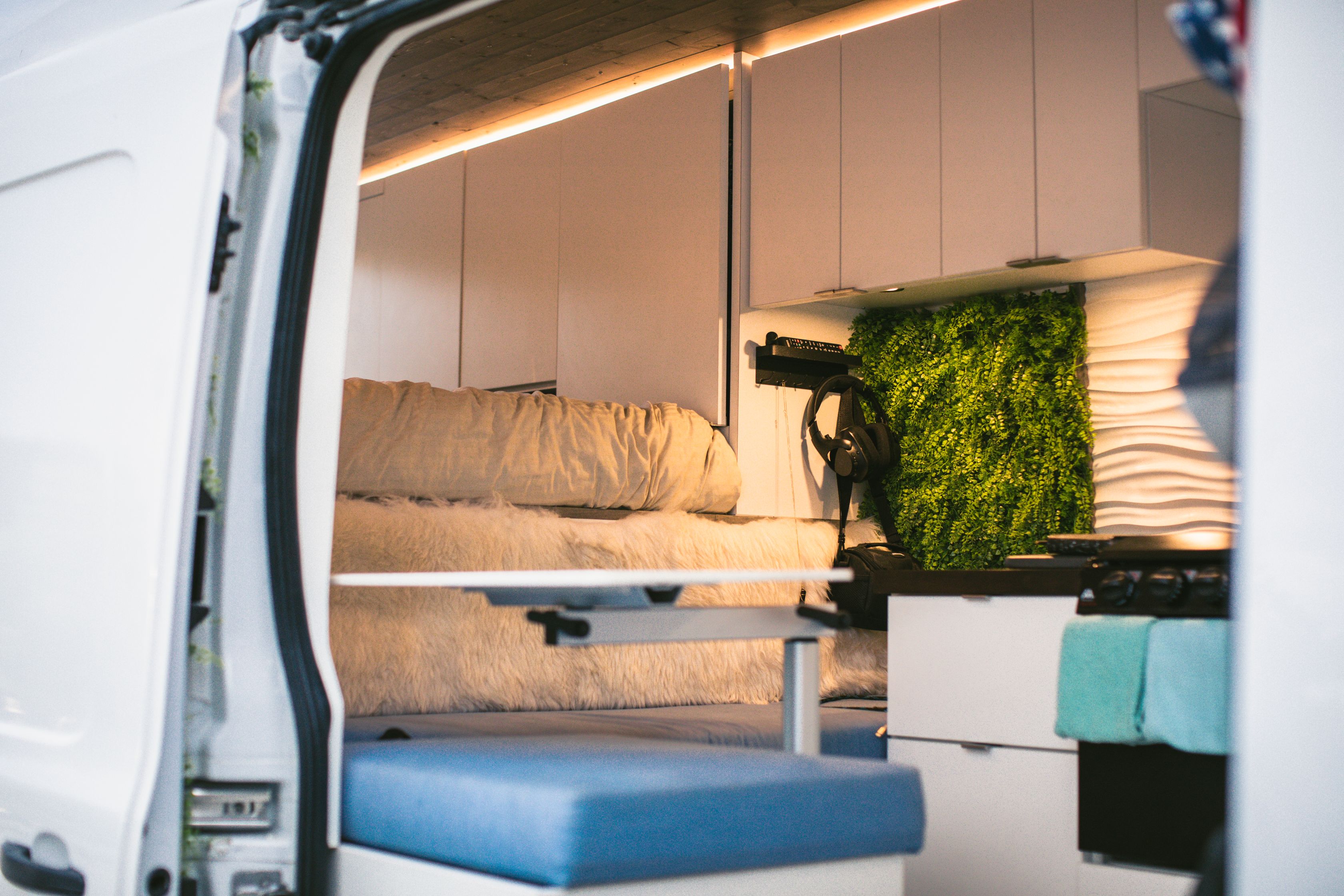 Beautiful Modern Interiors
Living in a tiny space requires a rethinking of how each inch is utilized.
All custom woodwork
Modern durable materials
Comforts of a 21st century lifestyle incorporated into a build
Location
Montgomery, IL 60538